Removable Wellside Drawers
Compatible with the Centurion Canopy™ and Load-Lid™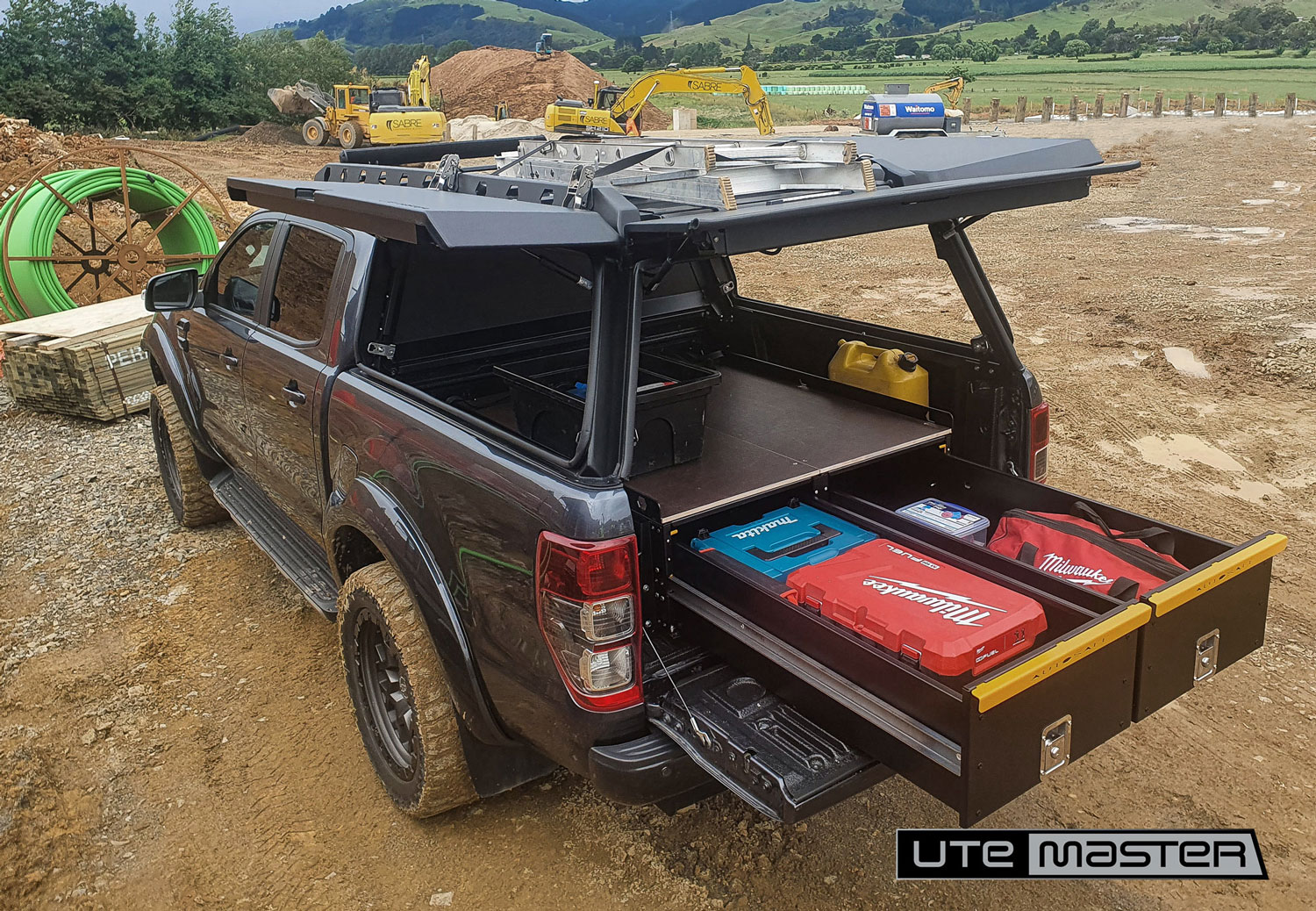 Please Note: This unit can only be supplied as a twin unit with two drawers.
The Wellside Drawers are model specific, refer to the part number list at the bottom of the page.
The Removable Wellside Drawers
Tired of tools sliding around in the back of the work ute?
The Utemaster Removable Wellside Drawers provide a secure, organised area to store your tool cases, small parts and equipment inside your wellside.
The Utemaster Drawers attach to the wellside using factory mounting points in the wellside, meaning you can easily fit and remove them without drilling through the floor.
What's different about this one compared to other options?
Typically, wellside drawers are fitted to the vehicle using permanent mounting solutions.
The Utemaster Removable Wellside Drawers are designed using a quick-release system that bolts into the factory mounting points.
This means you can easily fit and remove them as required, making it the ultimate setup for work during the week and adventures on the weekend!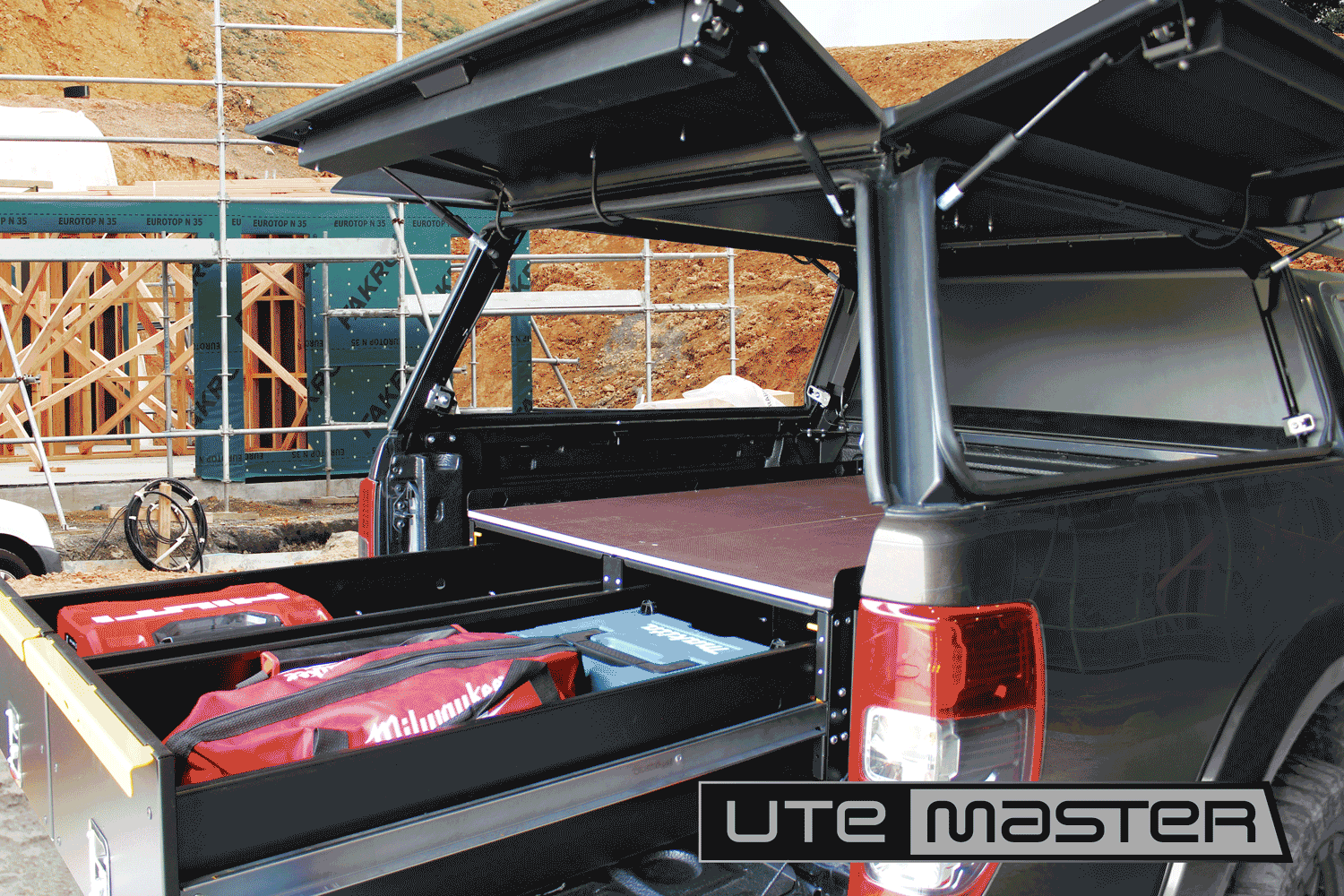 Triple Security Layer
We understand that security is important to any tradie.
The cost and loss of productivity from stolen tools can be damaging.
The Utemaster Removable Wellside drawers are fully lockable with a supplied set of keys. To get into them you would need to, open the Load-Lid or Canopy, drop the tailgate then open the drawers.
This triple security layer is very robust and will help protect your valuable gear from being stolen.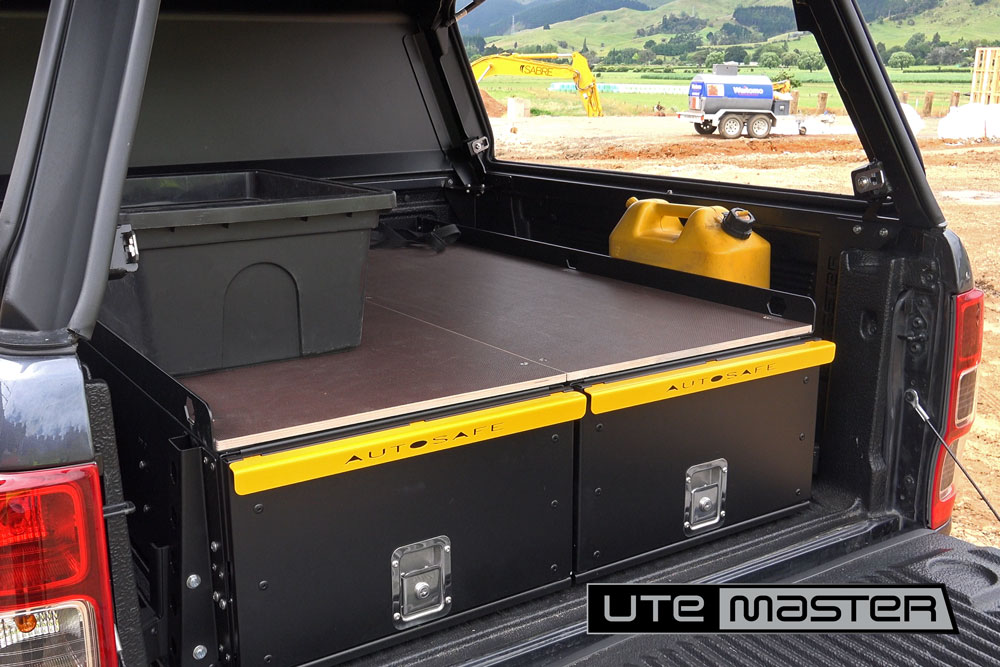 Steel Construction
A wellside drawer unit will take a beating over its lifetime.
They need to be strong and secure so they can withstand a hard day on the job site.
The Removable Drawers are constructed from steel, which gives it a high load rating and robust security. They are powder coated with the same durable black that is used on Load-Lids and Centurion Canopies.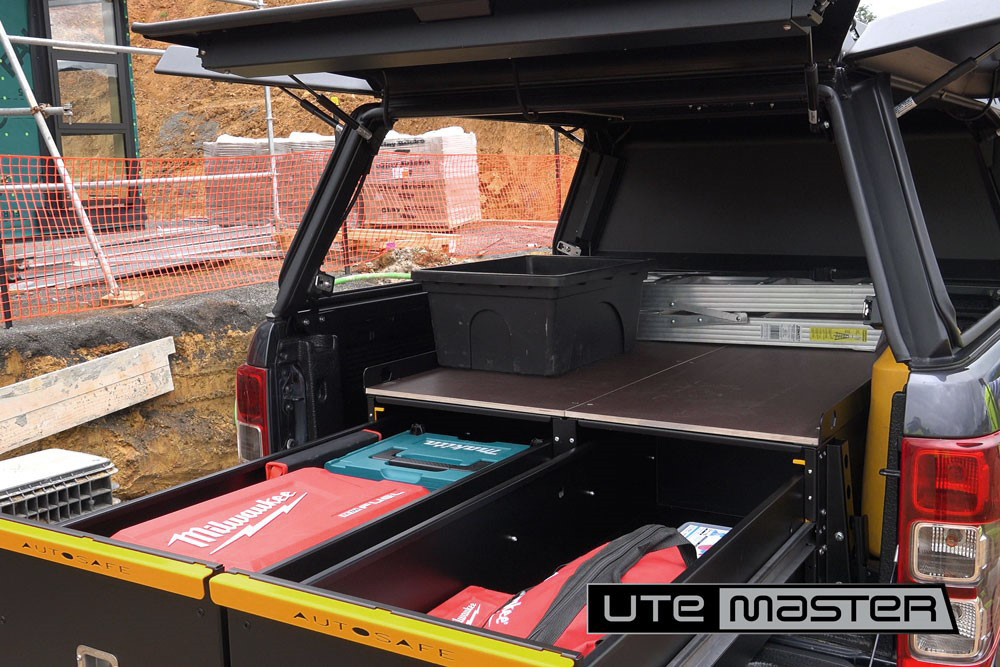 Tie Down Points With Plywood Top
The wellside drawers create a solid loading platform for carrying extra gear in your wellside.
It is important that the gear is in a fixed position so it does not roll around when driving.
There are mounting points around each side of the drawer unit top that can be used to strap down items and prevent them from sliding around.
Load Rating
The Utemaster Removable Wellside Drawers have a large opening of 950mm beyond the drawer shell.
The loadable area is large which is why the drawer has been designed to withstand 100kg per drawer and 200kg combined.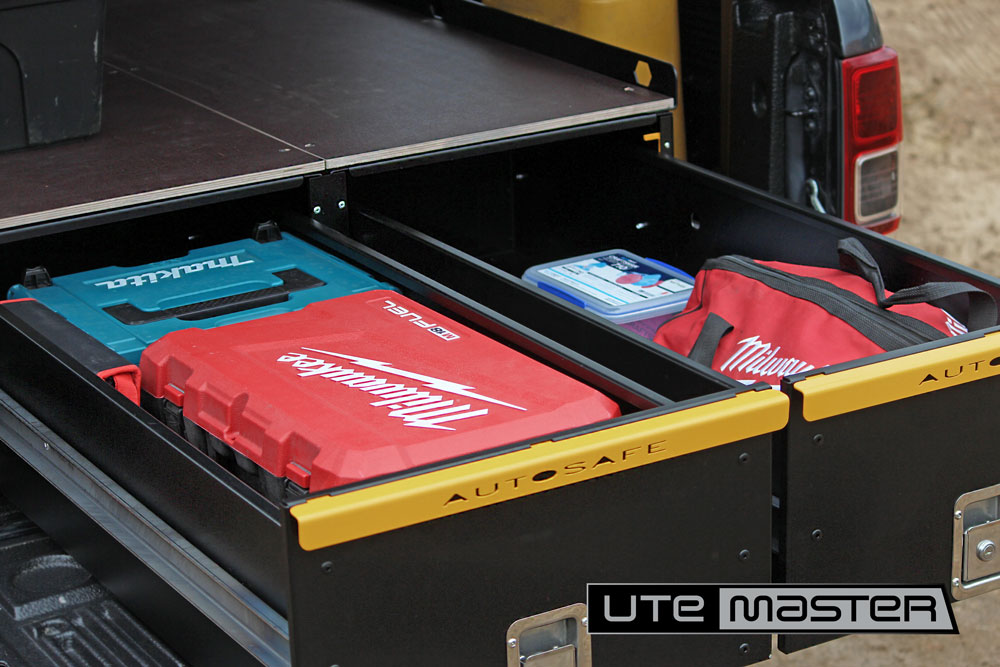 Works with Centurion Canopy™ or Load-Lid™
The Utemaster Centurion Canopy™ and Load-Lid™ are installed to a vehicle using no-drill-fit systems.
This means they can easily be fitted, then removed when required without any permanent damage.
The Removable Wellside Drawers have been designed with the same intent and complement the practicality of the Canopy and Load-Lid. Together it creates the ultimate wellside setup for getting work done, enjoying life's adventures!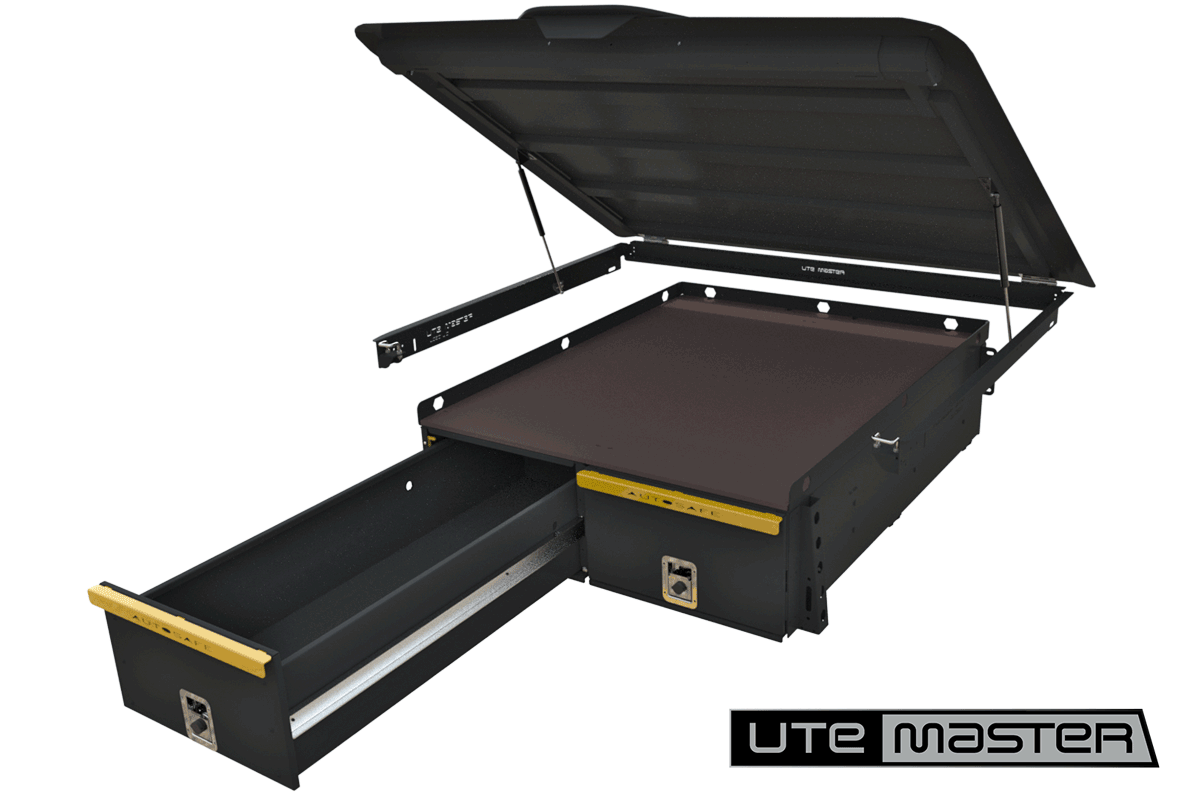 Lockout Latch
If your Ute is parked on a downhill angle the drawer is designed to lock in place when fully extended.
This holds the drawer open and makes it easier to unload gear.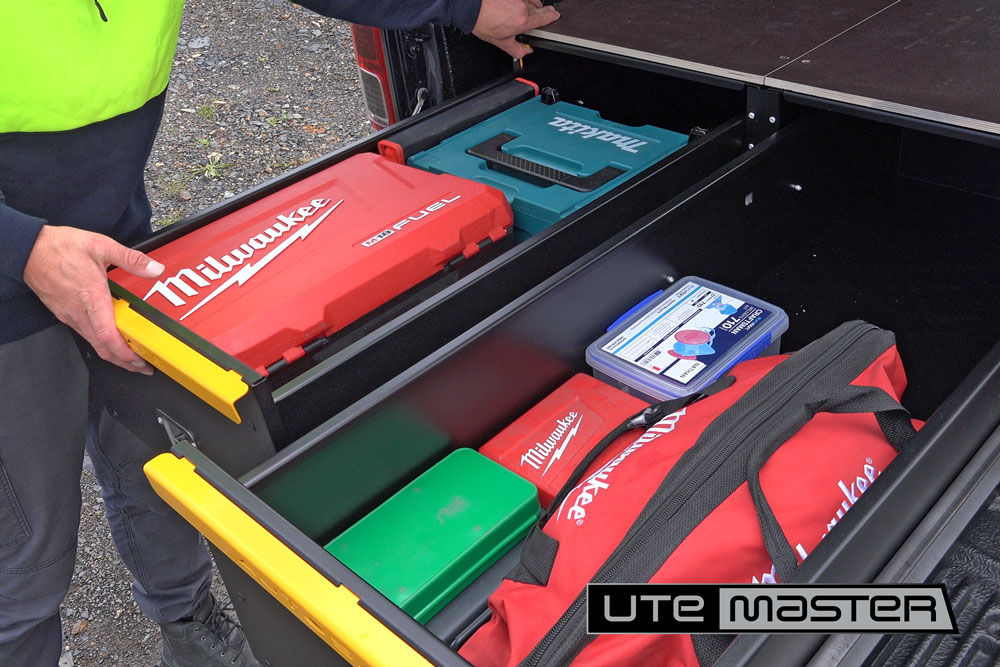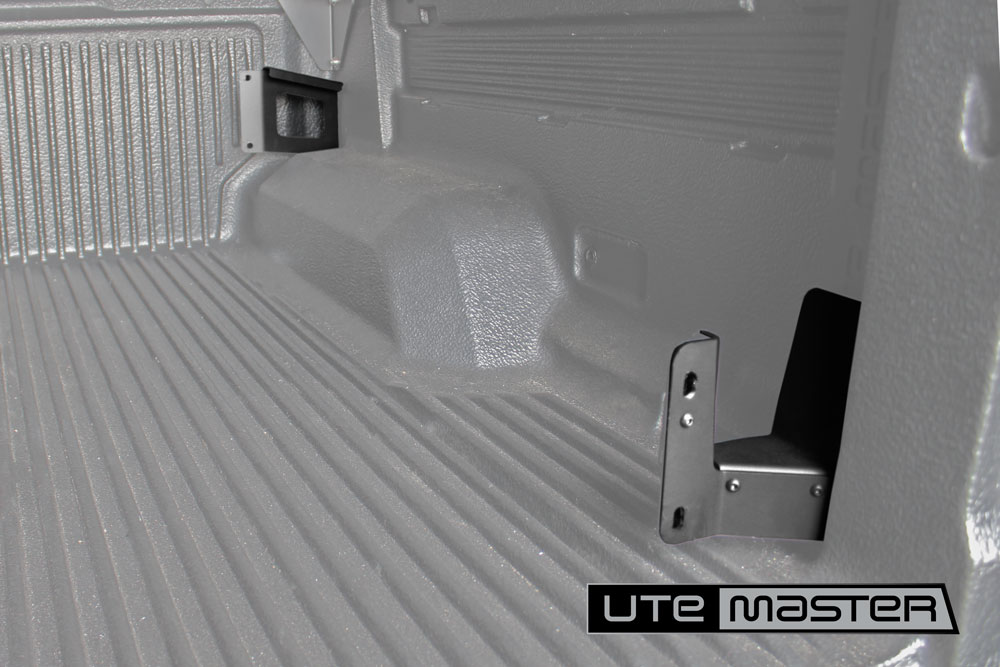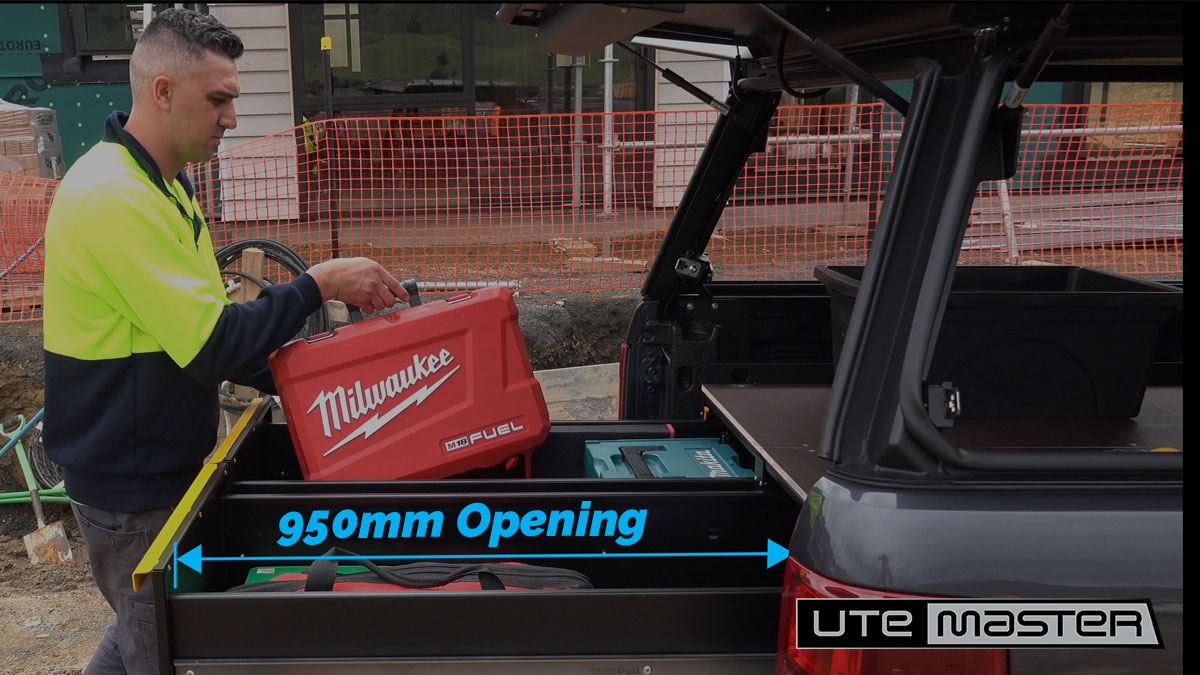 PRICING/ORDER NOW
1) Head to our Ute Builder
2) Select your vehicle model
3) Choose a product and accessories
Click "Send Build Summary" to send yourself a full breakdown of the build with more information or click "Add to Cart" to order it straight off our website.
Frequently Asked Questions
Q) How much does a twin drawer unit weigh?
A) The weight of the whole drawer unit is approximately 120kg.
Q) Are the Wellside Drawers model-specific?
A) The brackets that hold the drawers in place are model specific because they are designed to fit the factory mounting points of that vehicle. Currently, we have drawers available for Ford Ranger, Isuzu D-Max, Mazda BT50, Nissan Navara Toyota Hilux, GWM Cannon, Mitsubishi Triton and VW Amarok.
Q) How far does the wellside drawer open?
A) The Utemaster Removable Wellside Drawers have a large opening of 950mm beyond the drawer shell.
Q) What is the load rating?
A) Each drawer is rated to 100kg.
Part Numbers For Removable Wellside Drawers
To suit Ranger: Part #BLOK-PAIR-FRB2
To suit Cannon: Part #BLOK-PAIR-GWMA32
To suit D-Max: Part #BLOK-PAIR-IDD12
To suit BT50: Part #BLOK-PAIR-MBC9
To suit Triton: Part #BLOK-PAIR-MTB7
To suit Navara: Part #BLOK-PAIR-NNC1
To suit Hilux: Part #BLOK-PAIR-THB4
To suit Amarok: Part #BLOK-PAIR-VWA3

You may also be interested in...
Utemaster Cantilever Roof Rack to suit Centurion Canopy