DECK & TOOLBOX
A Flat Deck & Toolbox fitout keeps your options open.
Do you love a Flat Deck because of its flexibility, but also require a decent amount of secure storage space?
The Flat Deck & Toolbox allows you to throw on large heavy equipment that will not fit in a standard Service Body or wellside canopy - at the end of the day, you can lock away your tools and consumables knowing they will stay dry and safe in the toolboxes.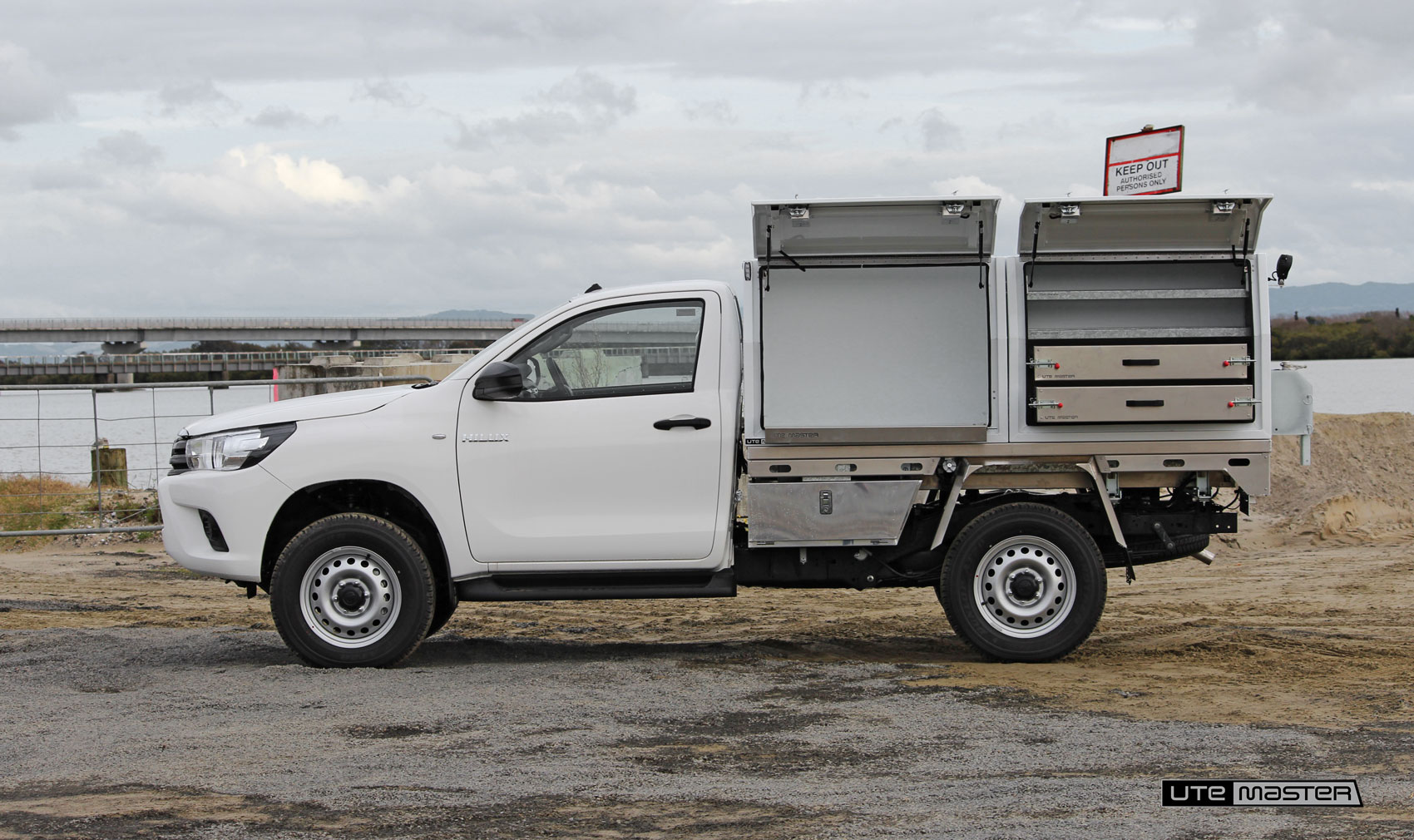 Mobilise your mechanics.
The Deck & Toolbox fitout gives your mobile mechanics a competitive edge.
To stand out as a mechanic you've got to have a professional image, have the right tools for the job and be able to give customers the service they require. We don't just build Service Ute Fitouts, we work with you to configure the ute by using a wide range of bespoke options to allow your team to operate at maximum productivity.
Deck & Toolbox Part Numbers:
| | |
| --- | --- |
| Double Cab Flat Deck | |
| Part#40110-01-1800S | Double cab, 1800W, doesn't suit drawer, doesn't suit full headboard |
| Part#40110-01-1800D | Double cab, 1800W, suits drawer, doesn't suit full headboard |
| Part#40110-01-1900S | Double cab, 1900W, doesn't suit drawer, doesn't suit full headboard |
| Part#40110-01-1900D | Double cab, 1900W, suits drawer, doesn't suit full headboard |
| Part#40110-01-1900D-V | Double cab, 1900W, suits drawer, doesn't suit full headboard, suits underdeck vice |
| Extra Cab Flat Deck | |
| Part#40110-02-1800S | Extra cab, 1800W, doesn't suit drawer, doesn't suit full headboard |
| Part#40110-02-1800D | Extra cab, 1800W, suits drawer, doesn't suit full headboard |
| Part#40110-02-1900S | Extra cab, 1900W, doesn't suit drawer, doesn't suit full headboard |
| Part#40110-02-1900D | Extra cab, 1900W, suits drawer, doesn't suit full headboard |
| Part#40110-02-1900D-V | Extra cab, 1900W, suits drawer, doesn't suit full headboard, suits underdeck vice |
| Single Cab Flat Deck | |
| Part#40110-03-1800S | Single cab, 1800W, doesn't suit drawer, doesn't suit full headboard |
| Part#40110-03-1800D | Single cab, 1800W, suits drawer, doesn't suit full headboard |
| Part#40110-03-1900S | Single cab, 1900W, doesn't suit drawer, doesn't suit full headboard |
| Part#40110-03-1900D | Single cab, 1900W, suits drawer, doesn't suit full headboard |
| Part#40110-03-1900D-V | Single cab, 1900W, suits drawer, doesn't suit full headboard, suits underdeck vice |