TOYOTA HIACE
CUBE VAN SHELVING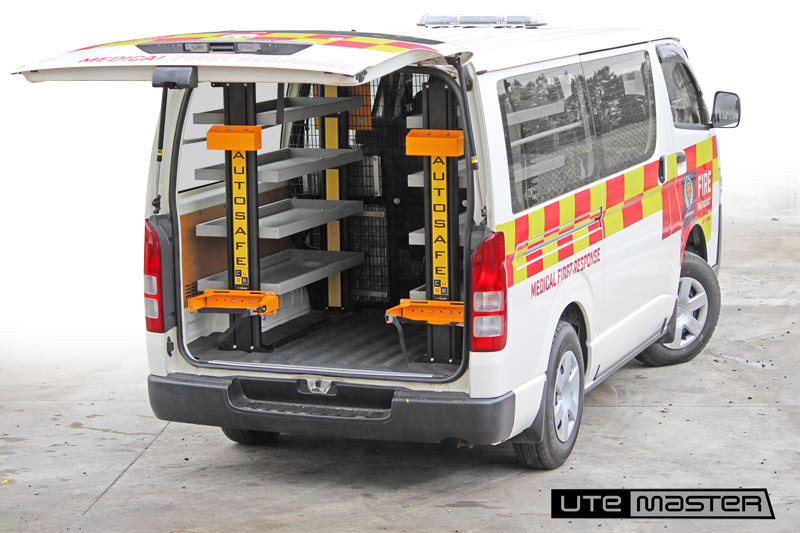 Why is Cube Van Shelving Unique?
Built on a solid framework, Cube offers endless adjustment and flexibility. The unique extruded uprights allow users to set the height of the shelves and accessories exactly to their needs by simply loosening the bolts and sliding the shelf or accessory item to the height required. In addition to this, shelves can be easily added or removed down the track.
Each Cube upright contains 6 T-track slots for mounting shelving, boxes, accessories and much more!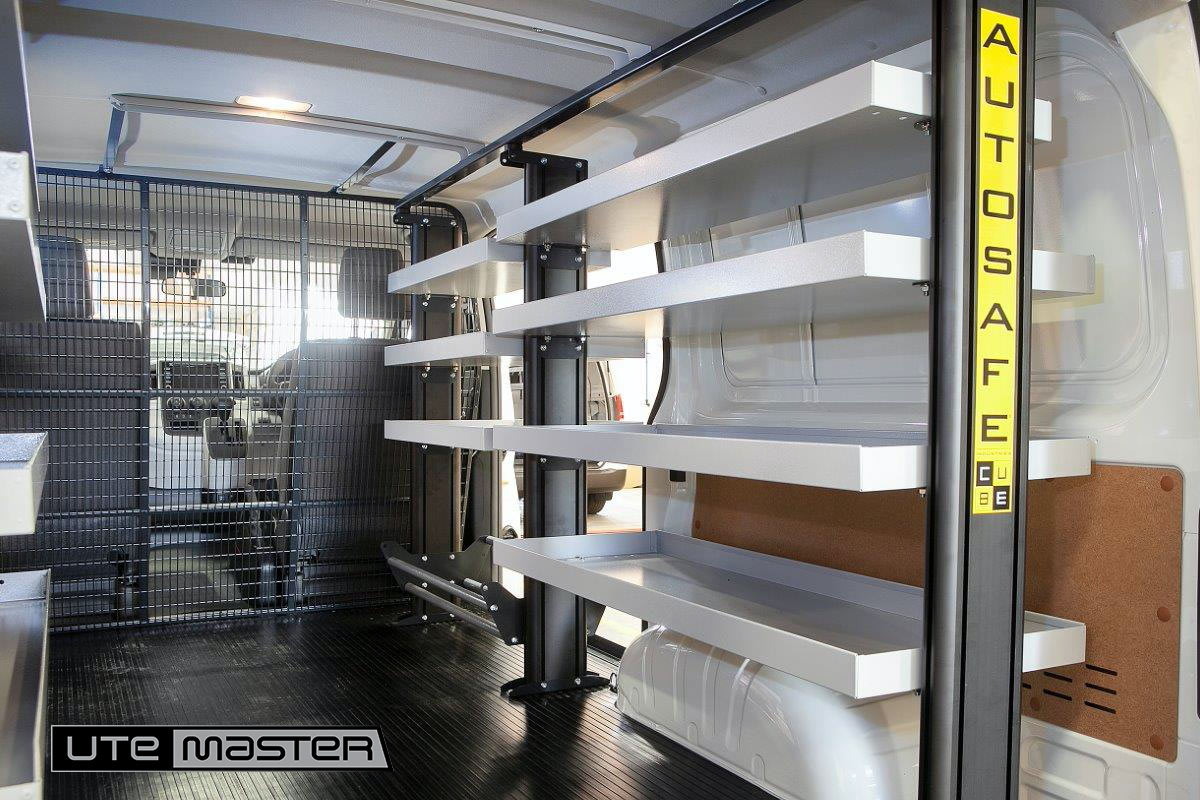 Functional & Professional
Cube Van Shelving is highly functional and adaptable to your needs and at the same time looks smart and professional. Customers take notice of how organised you are and how your work van is set up speaks volumes about how you work.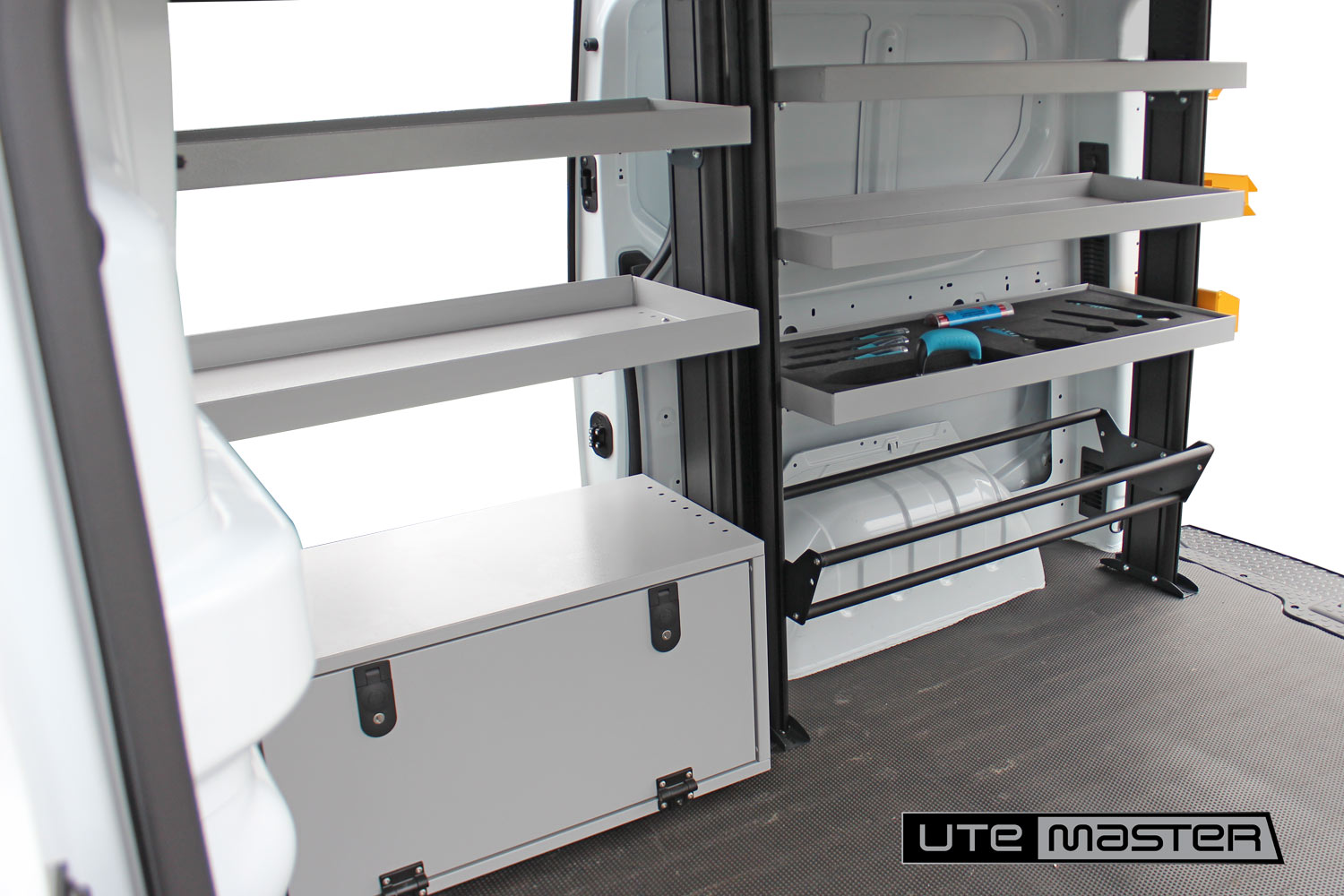 Strength
A high-quality strong shelving unit increases your ability to carry gear and get stuff done during the week.
Cube Van Shelving is built tough so you can transport all your tools and equipment to and from the job site, no worries.
Each Unit is Load Rated at 160kg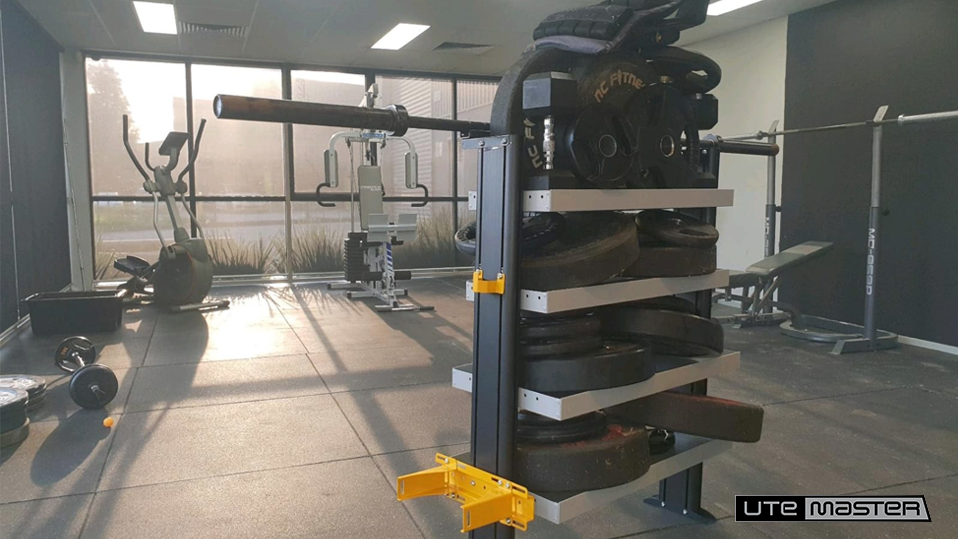 Crash Tested
Cube Shelving passes industry-standard crash testing, while being loaded up with 160kg of gear.
Ensure your fleet is using compliant and tested products to protect yourself in the event of an accident.
Sleek Appearance
Cube Shelving looks sharp which means your mobile workforce have a pleasant working environment and portray a professional image to the client.
We've also opted to finish the units in a powder coat which protects the metal and maintains a tidy appearance for years to come.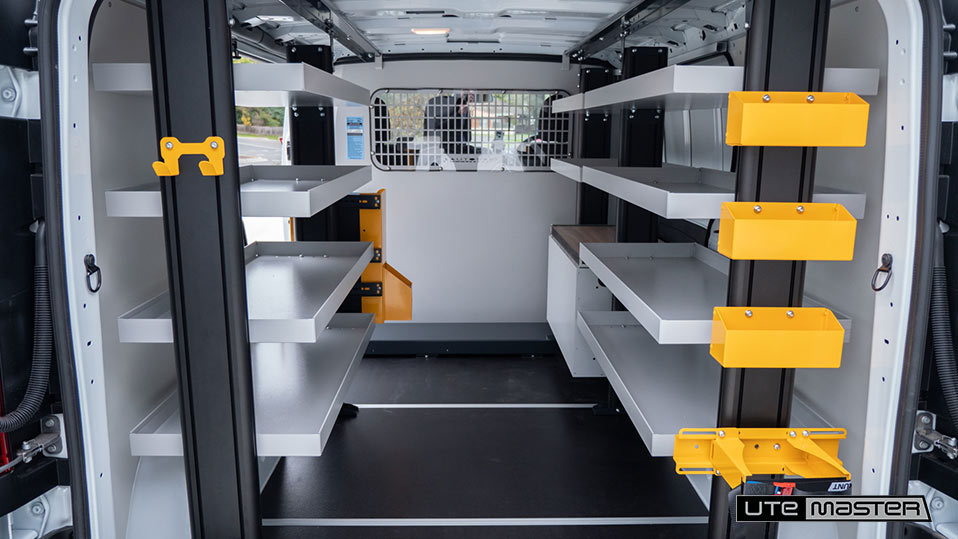 Configurations
Model

Description

Photo

M-S

3x Adjustable Shelves.

Front: 800x1300mm

Rear: 1000x1300mm

Shelving Depth: 400mm

A-S

4x Adjustable Shelves

Front: 800x1300mm

Rear: 1000x1300mm

Shelving Depth: 400mm

I-S

5x Adjustable Shelves.

Front: 800x1300mm

Rear: 1000x1300mm

Shelving Depth: 400mm

J-S

6x Adjustable Shelves.

Front: 800x1300mm

Rear: 1000x1300mm

Shelving Depth: 400mm

H-S

4x Adjustable Shelves, 1x Cable Holder.

Front: 800x1300mm

Rear: 1000x1300mm

Shelving Depth: 400mm

D-S

3x Adjustable Shelves, 1x Cable Holder.

Front: 800x1300mm

Rear: 1000x1300mm

Shelving Depth: 400mm

C-S

2x Adjustable Shelves, 2x Cable Holder.

Front: 800x1300mm

Rear: 1000x1300mm

Shelving Depth: 400mm

B-S

2x Adjustable Shelves, 1x Cabinet.

Front: 800x1300mm

Rear: 1000x1300mm

Shelving Depth: 400mm

E-S

3x Adjustable Shelves, 1x Cabnet.

Front: 800x1300mm

Rear: 1000x1300mm

Shelving Depth: 400mm

G-S

1x Adjustable Shelves, 1x Cabnet, 1x Cable Holder.

Front: 800x1300mm

Rear: 1000x1300mm

Shelving Depth: 400mm
Head to the Van Builder to build your own setup from scratch or choose from one of the below pre-built configurations to get you started:
Pre-Built Options:
| | | |
| --- | --- | --- |
| Configuration A | Configuration B | Configuration C |
Configuration A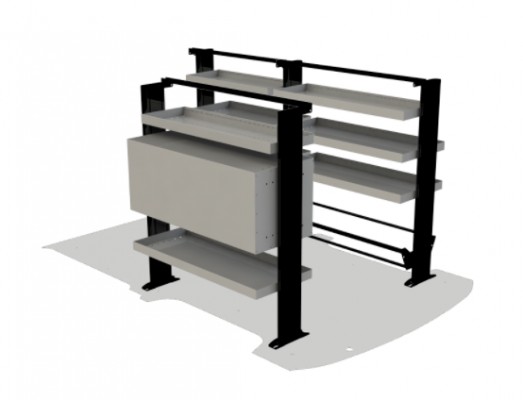 Configuration B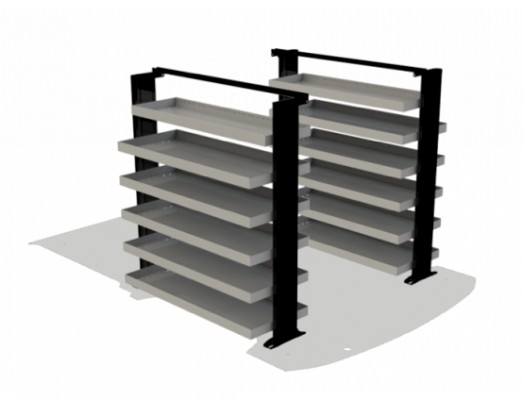 Configuration C