UTEMASTER STEEL FLEET TRAY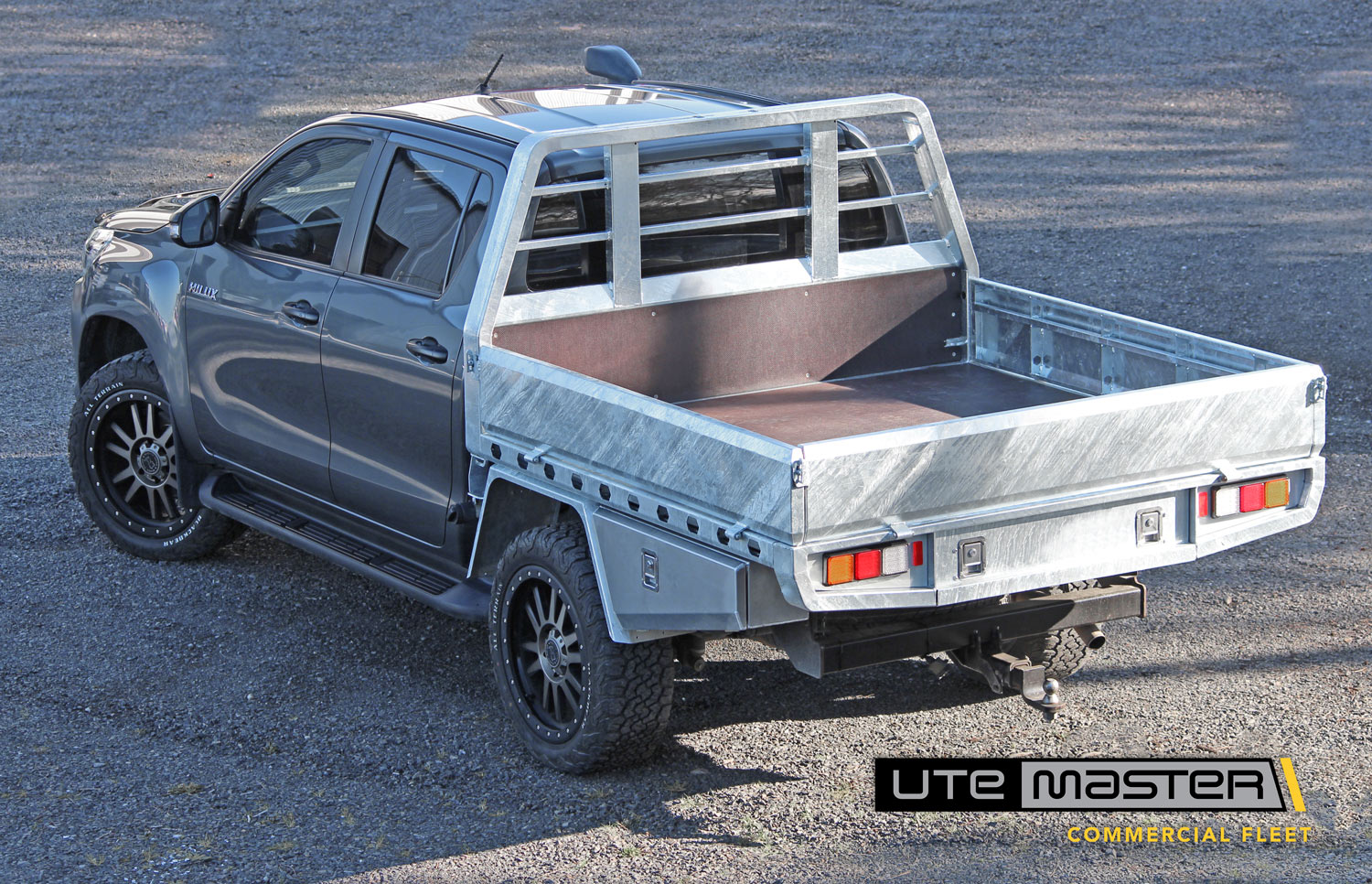 Built for Purpose
The Utemaster Steel Ute Deck is built for purpose – and that is to enable your fleet to get work done day in and day out.
Modular Design
Modularity is key in a fleet as it allows each vehicle to be built fit for purpose, but utilizing the same core product, supplier and brand. See the below examples, all built on the Utemaster Steel Ute Deck:
| | | |
| --- | --- | --- |
| 'Yard hand' Basic, no accessories | 'Site Master' Underbody drawer and underbody toolboxes | 'Versatile Tradesman' Underbody drawer, underbody toolboxes and rear rack |
| 'Arborist' Underbody toolboxes, small toolbox at the front | 'The Boss' Black, underbody drawer, underbody toolboxes | |

Features Include:
Adjustable and removable load pegs on the headboard that can be adjusted from side to side to allow load support in the exact spot you need it

Solid 1 Piece 100mm thick Headboard to compliment the look of your vehicles and provide a safety barrier for your cab. The headboard has multiple rungs for restraining loads.

Solid Taillight Protector which acts like a rear bumper

Solid Steel Sides with optional ply inserts

Full-length tie-down rails underneath the deck

Adjustable mudguards to cater for multiple types of tyres and wide/ narrow wheel offsets

Internal load restraint points on the inside edge of the sideboards

Optional Heavy Duty Tie-down points recessed into the floor

Dimensions:

Double Cab 1900x1860

Extra Cab 2200x1860

Single Cab 2500x1860

Weight: Approx 200kg
Please note: Some additional components such as taillights to suit the Flat Deck, reversing sensor brackets or camera brackets may be required depending on your vehicle model, this may influence the total quote. To confirm this, please contact our sales team.
Uniform, Professional Fleet Appearance
The Utemaster Flat Deck looks professional, and above all else, its smooth sides allow the perfect surface for signwriting. The combination of a quality mass-produced product and signwriting (which is not possible on most decks) means that your fleet will look sharp and elevated in the customer's eyes.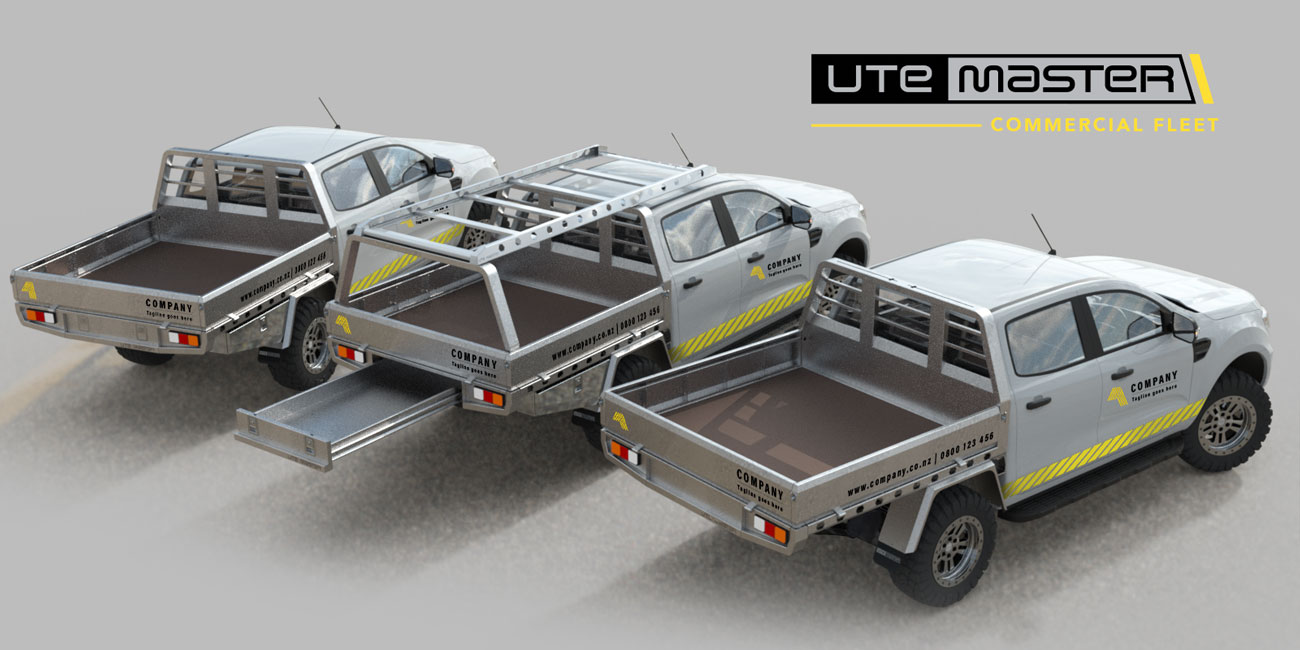 Internal Strap Points
If you are carrying a shorter load on your Flat Deck such as a lawnmower or trolley jack it is important that you secure it using tie points that are low to the floor to give it full support.
The Utemaster Steel Flat Deck features hex-shaped tie points inside the sideboards, meaning you can strap down your load without the need for floor mounted lashing rings.
NZ Design Registration
427366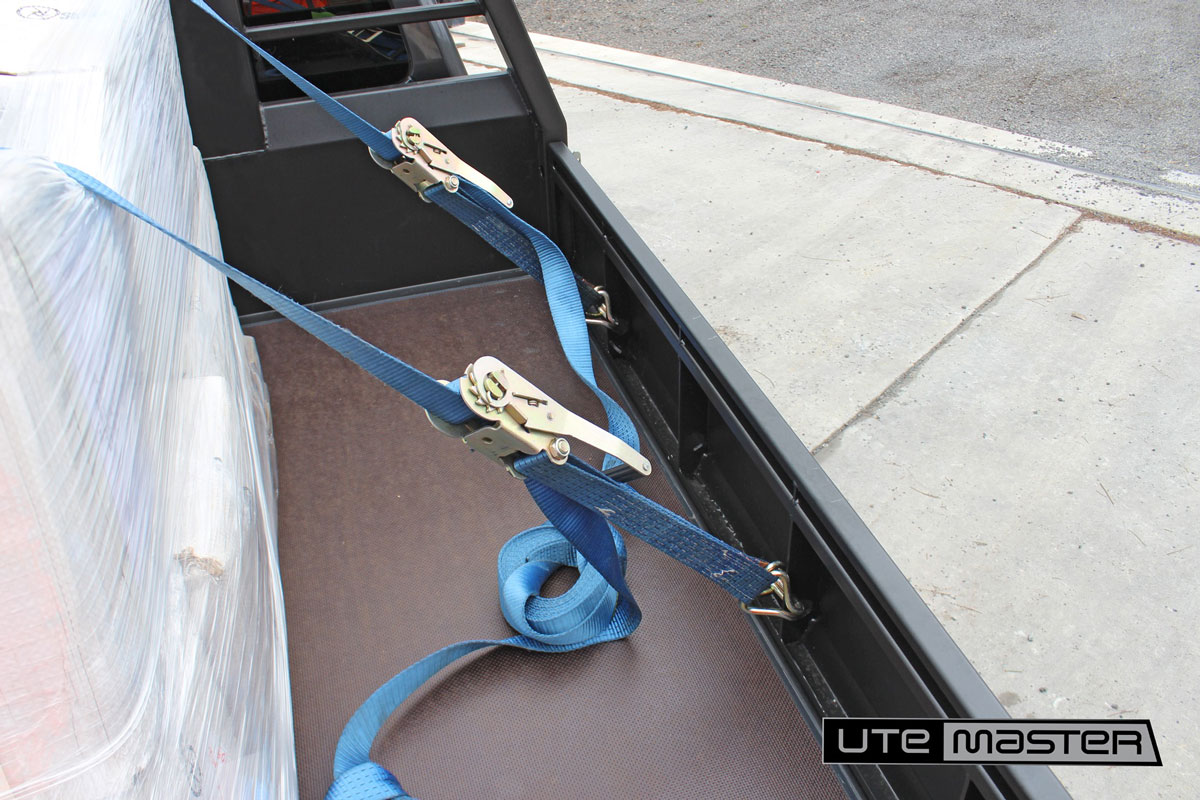 Colour Finishing Options
Base Option: Hot-dip Galvanised to protect against rust.
Black Option: Black coating over hot-dip Galvanised.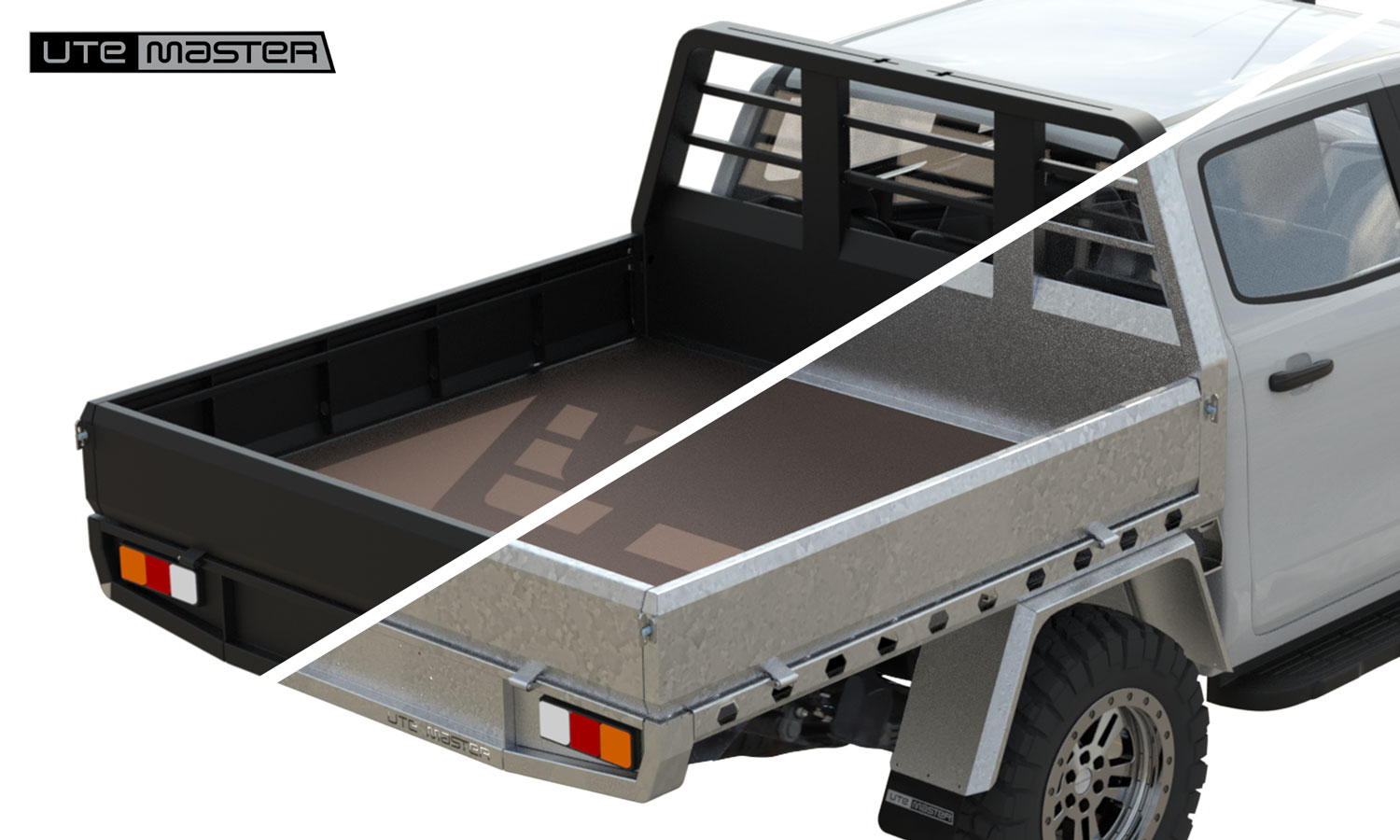 Fast Lead Times, Nationwide Scale
Utemaster is a Nationwide Fleet Fitout company that offer end-to-end solutions. The Steel Flat Deck fits into this model and is available at short notice, and for large scale fleet projects anywhere in the country.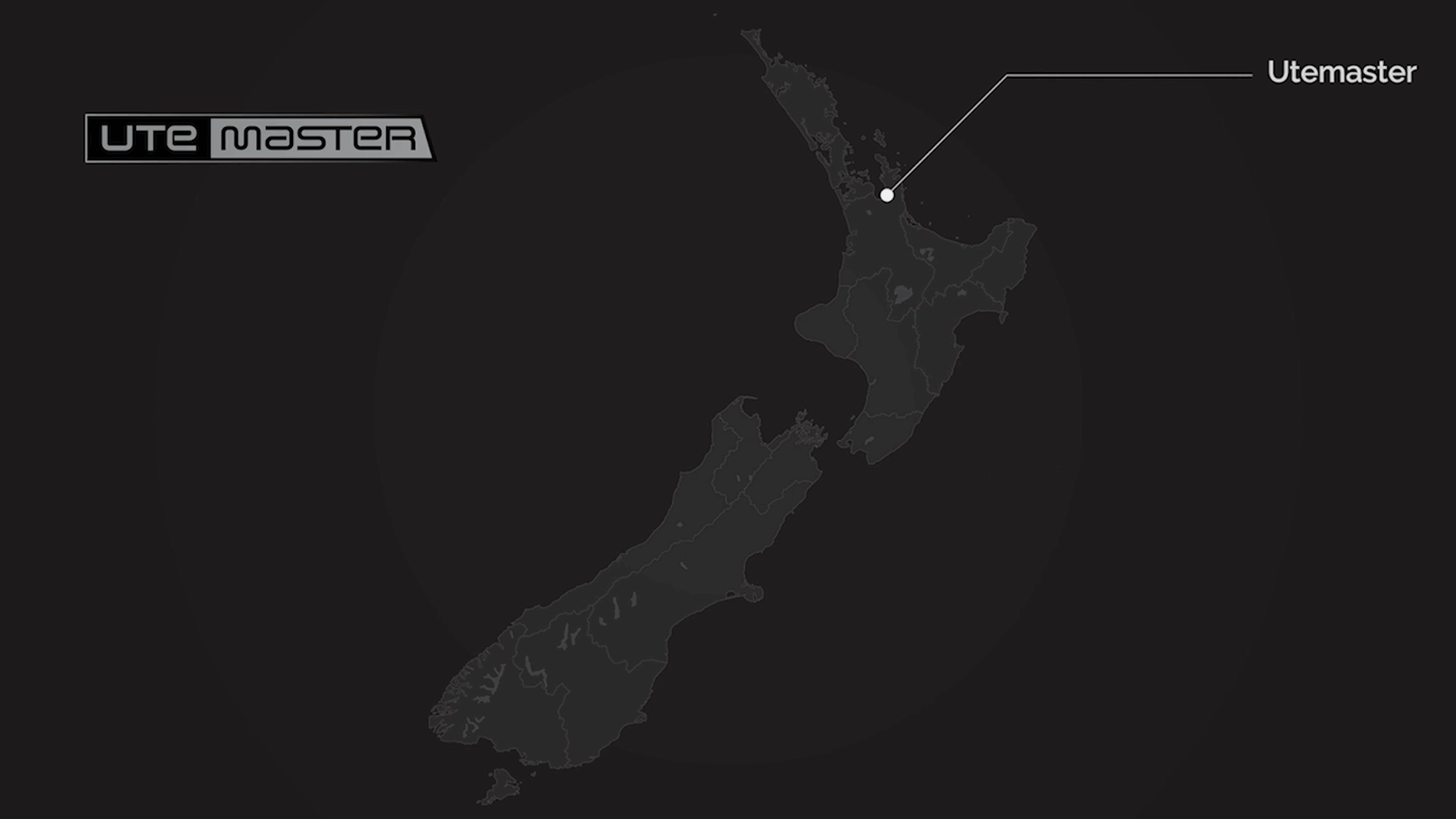 Quality and Compliance, Made in NZ
The Utemaster Steel Deck combines the quality of an ISO9001 accredited company with the ingenuity of a true 'Made in NZ' company.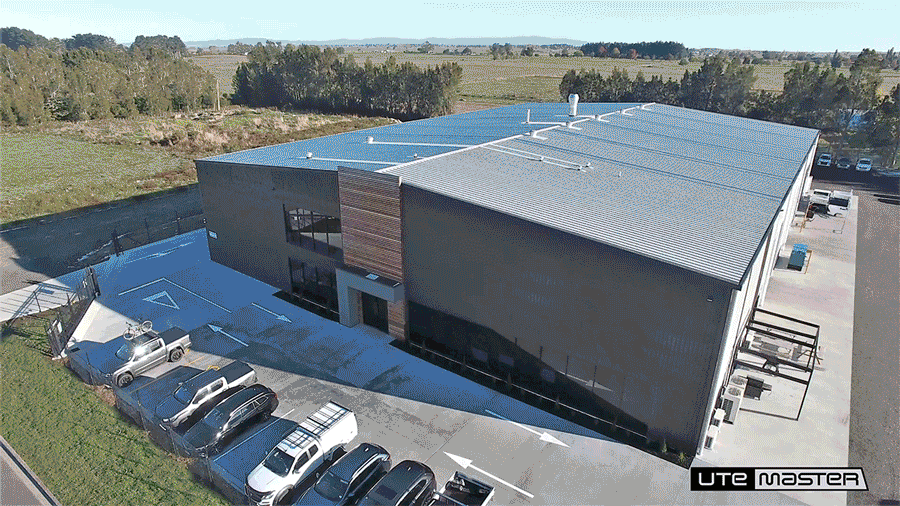 Contact Utemaster
We've packed a lot of hard work into the design and features of this Ute Deck, but have managed to keep it very cost-effective – contact us today for a quote!